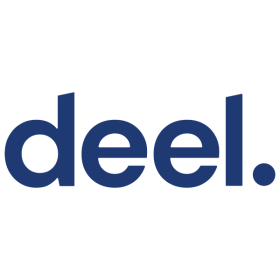 Junior Legal Counsel
Deel Brussels, Belgium
Who we are and what we do
Deel is a global team that helps businesses hire anyone, anywhere, easily. Deel consists of more than two thousand self-driven individuals spanning over 100 countries. Our unified yet diverse culture keeps us continually learning and innovating the Deel platform and our products for customers.
Companies should be able to hire the best talent anywhere in the world, so we are building the best platform to make that a reality. Our market-leading technology, expertise, and global team are crucial to the success of Deel's platform. We deliver the best products and platform features in our space, enabling millions of jobs worldwide and connecting the global workforce with the best companies and opportunities.
Why should you be part of Deel's success story?
A 30-mile hiring radius should no longer dictate how companies hire because great talent lives everywhere. Deel sees a world without hiring borders and endless talent that pairs perfect candidates with great companies.
We offer global teams all the tools they need to hire, onboard, manage, pay, and scale at full speed. We aim to foster a diverse global economy by building a generational platform that seamlessly connects companies with talent worldwide.
After our successful Series D in 2021, we raised another $50M last year, doubling our valuation to $12B.
There's never been a more exciting time to join Deel — the market leader in international payroll and compliance.
Responsibilities:
Assisting in drafting, reviewing employment agreements, commercial agreements, and corporate agreements.
Assisting in providing accurate, relevant, and timely advice on legal topics (e.g., fintech, labor laws, corporate, etc.)
Assist with the review and negotiation of client and vendor agreements and in furtherance of internal compliance initiatives.
Provide day-to-day proactive employment law counseling and support resolution of HR and legal employment issues.
Handle and assist in a variety of other issues and projects that arise from time to time
Requirements:
2-3 years of experience in the legal department of a company or at a law firm
Legal Background or BA studies in a similar field
Ability to work independently and as part of a team
Great attention to detail and organizational skills
You have good written and verbal communication skills.
You are fluent in English & French
Total Rewards
Our workforce deserves fair and competitive pay that meets them where they are. With scalable benefits, rewards, and perks, our total rewards programs reflect our commitment to inclusivity and access for all.
At Deel, you'll enjoy:
Computer equipment applicable to your role
Stock grant opportunities
Additional perks and benefits based upon your employment status and country
The ability to choose where you work whether it be your home, the beach, or a WeWork
At Deel, we're an equal opportunity employer and value diversity at our company. We do not discriminate based on race, religion, color, national origin, gender, sexual orientation, age, marital status, veteran status, disability status, or other applicable legally protected characteristics.
Mention in your application that you found this job through Legaljob.be.
Similar jobs